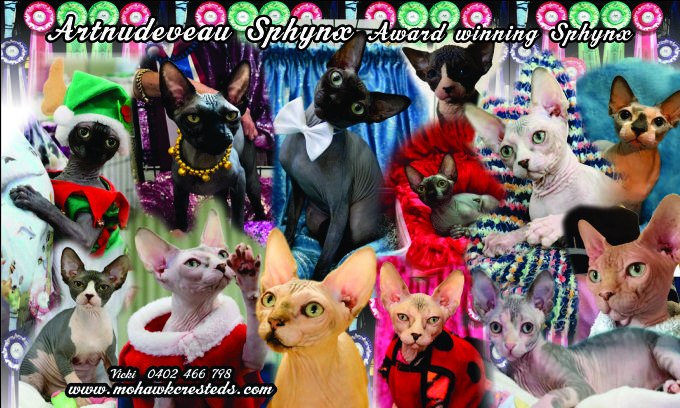 Welcome to
MOHAWK CHINESE CRESTED
ART'NUDE'VEAU SPHYNX CATS
&
LYKOI (Werewolf cats).
BIXCHIX EXHIBITION BANTAM POULTRY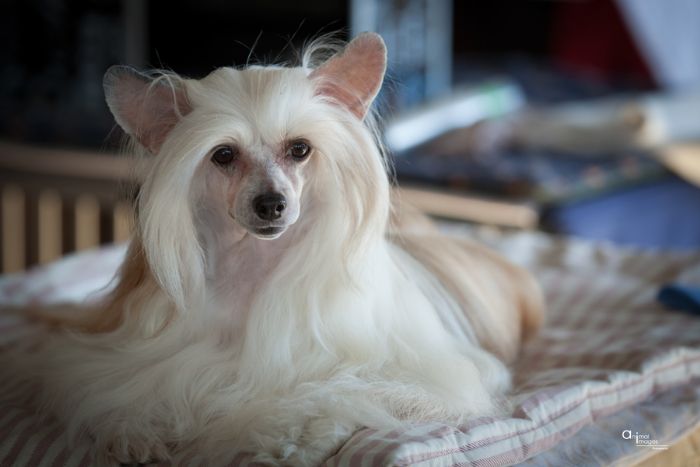 Welcome to MOHAWK, ARTNUDEVEAU and FIRESHON.
Chinese Cresteds Dogs Australia
Sphynx cats Australia
Lykoi Australia
Starting out in the canine world in 1976 with German Shepherds then having bred and shown Great Danes in the 80's and 90's and English Mastiffs also throughout the 1990's, most thought Chinese Cresteds were a strange and sudden change for me, but after several years of sharing my home with these little rescued critters I was hooked. My first little crested fondly known as "Hairy" (without one blade of hair on her I might add) has changed my life forever. In later years I fell in love with the Xoloitzcuintle, sphynx cats and the rare Lykoi.
After several years of rescue Cresteds, in 1992 our first registered Chinese Crested Dog came to live with us and hence "Mohawk" was established. The first litter was to arrive in October 1993, giving me my first Champion and the rest is history. Mohawk celebrates its twenty eighth year in 2020 and Thirty four years since the arrival of my first crested "Hairy."
Since Cresteds came into my life it has been a wonderfully successful journey. Along with many honors I have made some special long time friends, but as Mohawk ages so do our kids which means that there have been, and will be, sad moments along the way as my old ones cross the rainbow bridge. In 2006 I lost my first born hairless girl "Dimity" and in 2007, sadly, "Tattoe" and "Ebony" crossed the bridge also. Life will go on but it will never be the same without them.
Some highlights of my life with my dogs include many "Best Exhibit in Show awards, at all breeds and specialty levels. None have been more special than "Chain's" rags to Royal journey that took him from a chained dog in a back yard to a "Best Exhibit in Show" and Royal place in group winner. He was also awarded "Best Exhibit in Show" at the New South Wales specialty under breed specialist Mr Peter Taylor of the UK, and the weekend prior "Chain" went Runner Up to Best Exhibit in Show at the Victorian Specialty under Mrs Brenda Taylor.
Chain finished his career in style with a Royal "Best in Toy Group fourth" at the Sydney Royal Easter show (550 toys entered) and was also awarded Best of Breed at the Perth Royal show in the same year prior to his departure to Europe. With having many Supreme and Grand Champions Cresteds, I've been blessed to have these dogs in my life.
I must also make a special tribute to my foundation dogs, who cemented the kennel "Mohawk" in the history books "Ch Ttoga Xtrovert" and "Chinkie Yen Hebe." I have been proud to import and export Cresteds to and from many parts of the world.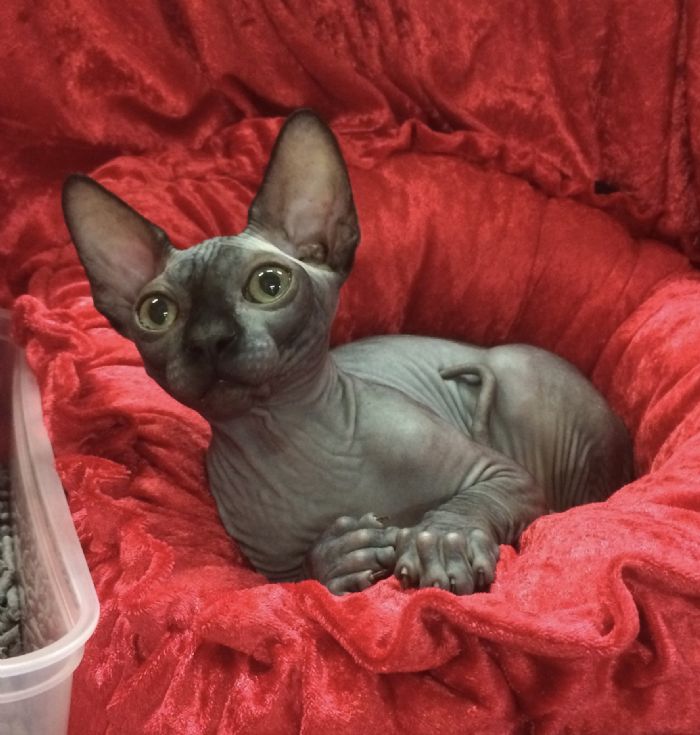 After waiting many years I was lucky enough to welcome Sphynx cats into my life. Hence "Artnudeveau Sphynx cats Australia" was born. It was 2016 before I campaigned my first home bred black Sphynx boy "Hotty" CCC of A Ch, ACF Ch, Multi BIS Ch Artnudeveau Crinklecat.
I breed Miniature Pinschers under the Fireshon prefix, as I did when I bred Mastiffs and Ibizan hounds. Miniature Pinschers become part of my life after Helene McMahon of Khanrae, took me under her wing, introducing me to these fab little critters. Wasn't a breed I would have chosen, but once knowing the breed I was smitten. Working for and along side Helene, I learnt much about her beloved a Minpins.
Pup and kitten notices will be posted when litters are pending. I only have an odd litter here and there so those who email us a short intro and stay in touch will be given first preference. Mohawk , Fireshon and Artnudeveau breeding stock are health tested.
With my Dane's, Ibizan's and Mastiff's now all gone, I have now just a few Cresteds and Miniature Pinschers, Sphynx cats and Miniature horses and of course my fab boy Chapie my Xoloitzcuintle all happily living on acreage in country Victoria, Australia.

The fabulous Sphynx finally coming into my life in 2014, after years of waiting. A special thanks to Pamela Smith for entrusting me with her lines, sending me my foundation girls Patience and Precious. More thanks to Maureen Charnstrom for working with me to help my Sphynx dream come true. The following year my foundation boy 'Moonie' arrived thanks to Deb Myers of Decha Sphynx SA.
We also have now welcomed the wonderful and rare Lykoi breed into our life, Watch for more news and the patter of little wolf paws.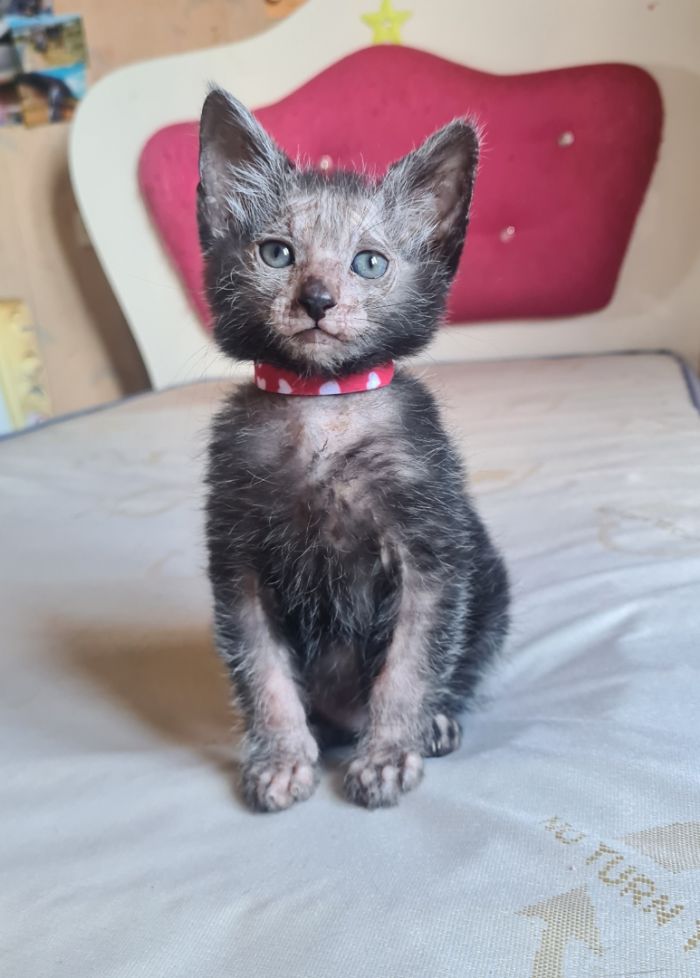 In 2015 a dear friend gave me two little Belgian D'Uccle hens. Like Minties, i couldn't just stop at one. The following years of learning and researching, I acquired some beautiful foundation birds and the rest is history. My multi award winning birds attributed to breeders prepared to share quality bloodlines. Special thanks to Samantha Mcauliff , Renae Ditz, Brad O'Leary, Aleisha Feltham , Scott Carter ( Naked Necks) and Elle Power (Pekin)
A special thankyou to Kevin Collins for being a great mentor, helping along this journey, for the beautiful birds he has given me and the help with sourcing quality birds from around the country.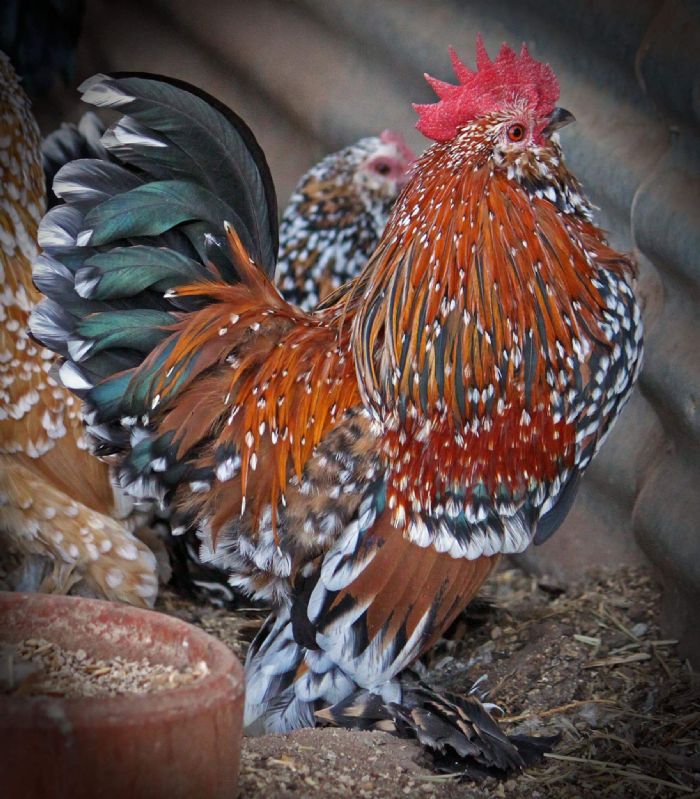 ROLEX
My Foundation Belgian Bantam D'uccle Rooster.
( Bred and photographed by Samantha Mcauliff )
please no text messages
we are still receiving them at all hours please be considerate.
With so many forms of contact sort order gets lost,
so please email an introduction.


WE DO NOT RESPOND TO TEXT MESSAGES.
Email addy: [email protected]
Victorian State Government Source Number
RB115229
Contact Details
MOHAWK CHINESE CRESTED DOGS AUSTRALIA
ARTNUDEVEAU SPHYNX CATS
& LYKOI CATS.
BELGIAN BANTAMS
(D'uccle and D'anver)
EMAIL APPLICATIONS TO
[email protected]
Vicki Bridle
Gippsland
Victoria.
No text messages thank you.
65646 Visitors